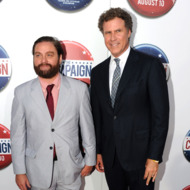 When i read this, i thought, seriously these guys are teaming up again? WOWWWWWWWWWW. Another THE CAMPAIGN yay.
Will Ferrell and Zach Galifianakis have signed on to star in another movie together, an adaptation of Daniel Asa Rose's memoir
Larry's Kidney
. If that isn't exciting enough, Richard Linklater is attached to direct. Ferrell will play Rose, who went to China to help his cousin Larry (Galifianakis) find a kidney transplant.